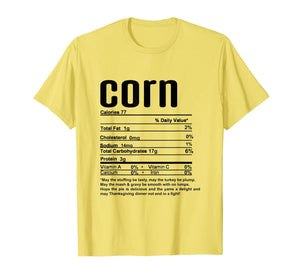 Solid colors: 100% Cotton; Heather Grey: 90% Cotton, 10% Polyester; All Other Heathers: 50% Cotton, 50% Polyester
Imported
Machine wash cold with like colors, dry low heat
We have an entire set of pick and mix matching Thanksgiving food label costume designs for every member of your thanksgiving dinner!
Lightweight, Classic fit, Double-needle sleeve and bottom hem
Thanksgiving Corn Nutritional Facts Thanksgiving Costume design part of our awesome matching Thanksgiving food shirt for friends, family and co-workers. Great Thanksgiving outfit perfect for celebrating the Thanksgiving holiday.
Men Standard T-Shirt
Size
Sleeve Length
Width
(1/2Bust)
Length
cm
Inch
cm
Inch
cm
Inch
S
43
17
48
18.9
70
27.5
M
45
17.7
52
20.5
71
28
L
47
18.5
56
22
73
29
XL
49
19.3
60
23.6
76
30
XXL
52
20.5
64
25.2
80
31.5
3XL
55
21.7
68
26.7
84
33
Women Standard T-Shirt
Size
Sleeve Length
Width
(1/2Bust)
Length
cm
Inch
cm
Inch
cm
Inch
S
39.5
15.5
45
17.7
61
24
M
41
16.1
49
19.3
63
25
L
42.5
16.7
53
20.9
65
26
XL
44
17.3
57
22.4
67
27
XXL
46
18.1
61
24
69
28
Youth Standard T-Shirt
Size
Sleeve Length
Width
(1/2Bust)
Length
cm
Inch
cm
Inch
cm
Inch
K2
33.5
13
41
16
K3
36
14
43
17
K4
37.5
15
45
18
K6
40
16
50
19.7
K8
43
17
56
22
K10
46
18
60
23.6
K12
48
19
64
25
Men Tank Top
Size
Sleeve Length
Width
(1/2Bust)
Length
cm
Inch
cm
Inch
cm
Inch
S
48
18.9
71
28
M
52
20.5
73
29
L
56
22
75
29.5
XL
60
23.6
77
30.3
XXL
64
25.2
80
31.5
Women Tank Top
Size
Sleeve Length
Width
(1/2Bust)
Length
cm
Inch
cm
Inch
cm
Inch
S
44
17.3
64
25.2
M
48
18.9
66
26
L
52
20.5
70
27.5
XL
56
22
72
28.3
XXL
60
23.6
74
29
Women V-Neck
Size
Sleeve Length
Width
(1/2Bust)
Length
cm
Inch
cm
Inch
cm
Inch
S
47
18.5
60.5
23.8
M
49.5
19.5
64
25.2
L
54
21.3
66.5
26.2
XL
57
22.5
68
26.8
XXL
59
23.3
69.5
27.4
Unisex Hoodie
Size
Sleeve Length
Width
(1/2Bust)
Length
cm
Inch
cm
Inch
cm
Inch
S
55
21.7
68
26.8
M
57
22.5
72
28.4
L
60
23.6
73
28.7
XL
63
24.8
76
29.9
XXL
66
26
77
30.3
Unisex Sweatshirt
Size
Sleeve Length
Width
(1/2Bust)
Length
cm
Inch
cm
Inch
cm
Inch
S
55
21.7
64
25.2
M
58
22.8
70
27.6
L
61.5
24.2
71
28
XL
65
25.6
73
28.8
XXL
68
26.8
79
31.1
Unisex Long Sleeve T-Shirt
Size
Sleeve Length
Width
(1/2Bust)
Length
cm
Inch
cm
Inch
cm
Inch
S
46
18
71
28
M
51
20
74
29
L
55
22
77
30
XL
60
24
79
31
XXL
64
26
82
32